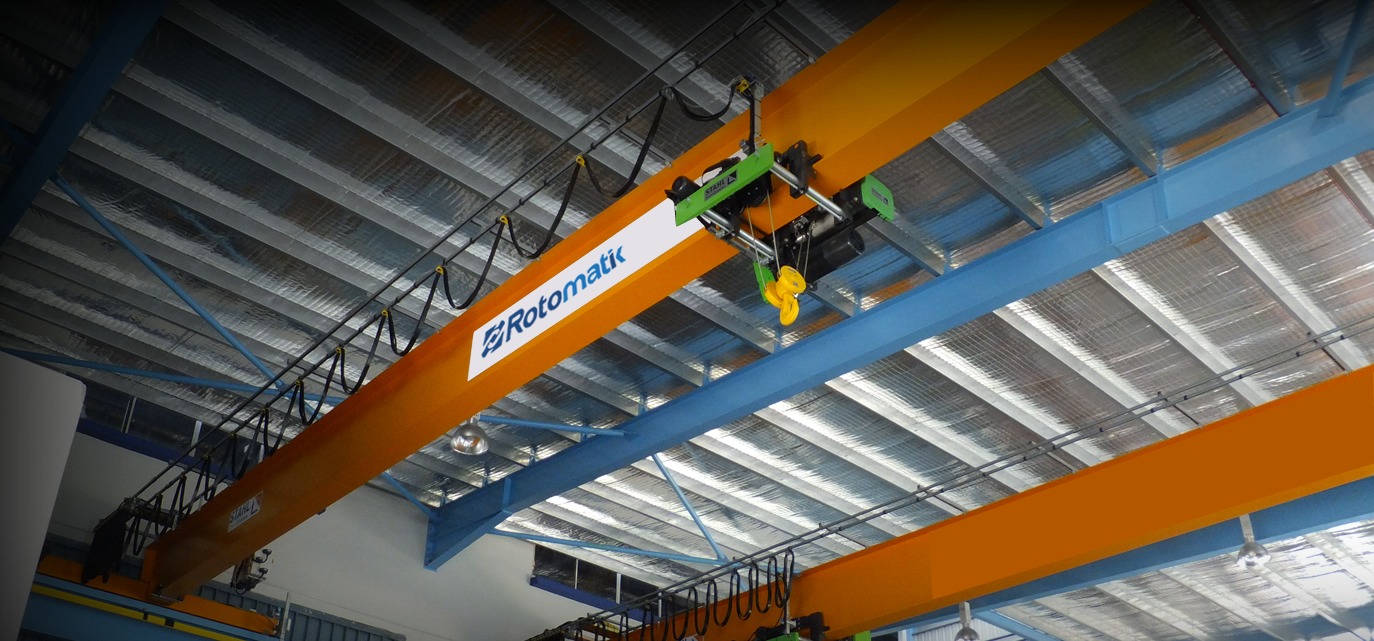 Cranes
Overhead Travelling Cranes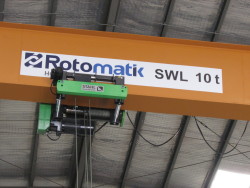 The overhead travelling crane is a practical equipment used for many lifting applications, designed to work both indoor and outdoor. Production floor and stockyard spaces are precious.
Every cubic meter of floor space needs to be fully used. Rotomatik cranes are optimised to maximise not only floor space but also the volumetric space utilisation.
Our products include:
Single girder overhead travelling crane
Double girder overhead travelling crane
Single girder underhung crane
Double girder underhung crane
The distinct features of the Rotomatik cranes are:
SWL range from 125kg to 100t and span up to 50m
Every crane is made of high quality steel and optimally designed to reduce load on building columns
Customers have the choice of either standard headroom or extremely low headroom for longer hook paths
Low-maintenance long travel and cross travel drives with integrated disc brakes& wear-resistant wheels
---
Single Girder Overhead Travelling Cranes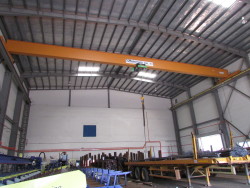 Rotomatik's single girder cranes are the most cost-effective solution for specific industries such as small & medium workshops, jobbing shops, medium-sized warehouses and precision plastic & metal stamping factories, just to list a few.
Depending on their applications, it can be fabricated either using an I-beam or boxed type design. Regardless of the form, the cranes are equipped with a host of safety features in compliance with Singapore Standards SS497:2011 and German Standards FEM.
The cranes are essentially an equipment moving in X, Y and Z directions. The motors are probably the most vital elements of the crane.
All motors are carefully selected up to FEM 4M classification to ensure long life and high MTBF, on condition the cranes are regularly and consistently serviced.
In terms of maintenance, the computerised design structure and optimally selected components together with an in-built monitoring system allow the cranes to be quickly diagnosed if it fails and downtime is swiftly shortened.
The standard single girder overhead travelling cranes will usually have the following specifications:
SWL up to 16t
Span up to 28m
---
Double Girder Overhead Travelling Cranes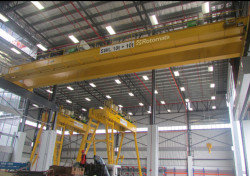 The double girder overhead travelling cranes are vital for industries which require the salient features of the single girder type but with the additional ability to carry a higher SWL.
The specifications are:
SWL up to 100t
Span up to 50m
---
Underhung Travelling Cranes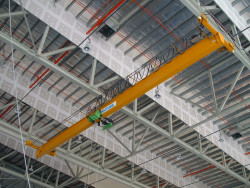 Underhung cranes are a special breed of overhead travelling cranes. With underhung cranes, the end carriages ride on the bottom flange of the runway beam rather than on top flange like standard overhead travelling cranes. The runway beam is often suspended from the roof / ceiling, which eliminates the need for extra floor columns to support the runway. This can be advantageous if there were floor space constraint. An underhung crane may be appropriate when operating in a network of identifcal cranes.
The specifications are:
SWL up to 10t
Span up to 20m
---
Winch Cranes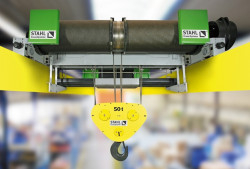 These class of overhead travelling cranes are used when:
loads are considered very heavy
cranes need to be used in harsher environment
cranes are subject to the full SWL most of the operating time
frequency of crane usage is very high
hook path is very long